Breeding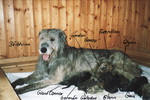 My puppies are of course born in our house, and that's where they sleep and rest until their new owners pick them up. This way they get used to all the noises that occur in a household.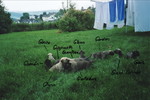 Next to our kitchen we have a room that gets used primarily as a utility room. We installed floor heating. Additionally we put in a door to the garden, so that the puppies could later go outside onto a field designated for them.
In case I ever really have two litters at once, the whelping boxes are right next to each other. I've never had a problem that mum's were jealous of one another. Quite the opposite, actually! They're happy to share whelping boxes.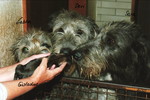 My other dogs witness the birth live, only seperated by a kid's fence. They love it!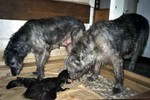 Ascan was the only one who was allowed to examine, lick the newborn pups and stay with them. Every mum accepted that. And he was so happy.
For the first three weeks I sleep next to the whelping box, this way I know instantly if something is wrong.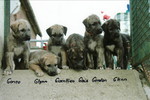 After four weeks at the latest the "babies" have figured out how to climb out of the box. And they soon realise how nice the outside world is.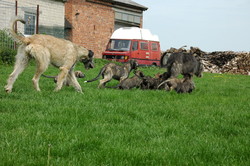 Once they're five to six weeks old I let them get to know the big ones, under my supervision of course. I place great importance on the pups developing social skills early on.
The big ones are very patient with them. And very careful, too. Up until now nothing has ever happened.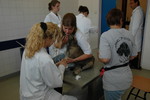 As soon as the puppies have been chipped, I test them for portosystemic shunt. I've been doing that since 1992. This examination is not mandatory under the DWZRV, but I think it's very important. If they find a shunt this early on, they are able to operate successfully. Otherwise the symptoms of the undiscovered shunt will occur from the 6th to the 8th months. At that point the shunt is inoperable and the puppy will have to be put down. Which is obviously horrible for the owner.
My puppies are dewormed multiple times, and completely vaccinated.
My vet will come by a lot without me prompting him all the time, but especially when I have puppies.
Because I always get reservations for my puppies and future owners have been round to mine for coffee a few times, they can see "their" babies when they're a few days old, otherwise they have to wait for three weeks. The ones that don't live far away then tend to visit once a week, which is something I like to see and encourage. In doing this the dog and human are already used to each other and the settling in at home is made much easier. I give my pups away when they're between 11 and 12 weeks old.
I always want to get to know new potential owners, before they get a dog from me. Coming by and taking a dog away that day doesn't happen with me. And sometimes I will say no. I would never give an IW away to live in a flat. Stairs are poison for their bones and joints. Remember how fast they grow. They don't have to own a huge house and garden. The main thing is that he can move around the house without knocking the good china off the table. Also they shouldn't be excersised too much while they're growing, only how much they feel comfortable themselves.
I also put great importance on keeping in touch with the owners. The breeders responsibility shouldn't end with the sale of a puppy. Because I only do a maximum of two litters a year, it's easy for me to do so.
I always tell everyone that if they run into problems, be it small or big ones, or have any questions they can call me at any time, night or day. And I'm pleased to say that they do.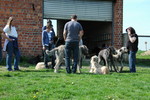 After roughly one year I will have a puppy reunion of each litter. I always check the date with everyone to make sure they can make it.
I've made friends with most of the owners now, and they often drop by for coffee, their dogs in tow of course.
When I haven't heard from someone in a while, I call them. Usually the reply is something along the lines of "everything is fine, otherwise you would have heard from us already."
Of course I will take dogs into my care while the owners are away. This is obviously very reassuring for the owners. Maybe they want to go on holiday sometime. Or someone gets ill. Or...